We know how challenging it can be to search for a job especially when you just arrived in Ireland ! Corina, one of our volunteer, shared with you her experience and gave us some tips to make your researches more successful :
Four years ago I came to Ireland as an Au Pair, and since the first moment, I knew I was in the right place. Little by little, I started falling in love with the Emerald island -It might have helped the fact that I have a great Irish family who made feel at home straight away-. There was a voice in my head yearning to stay here for longer but at the same time to be looking for a new challenge. I knew I needed to develop my professional career and that was the right time to do so.I jumped on my second adventure to hunt my first job in Ireland. The whole process was exciting and scaring as I was out of my comfort zone again. Nevertheless, with patience and hard work I achieved my goal.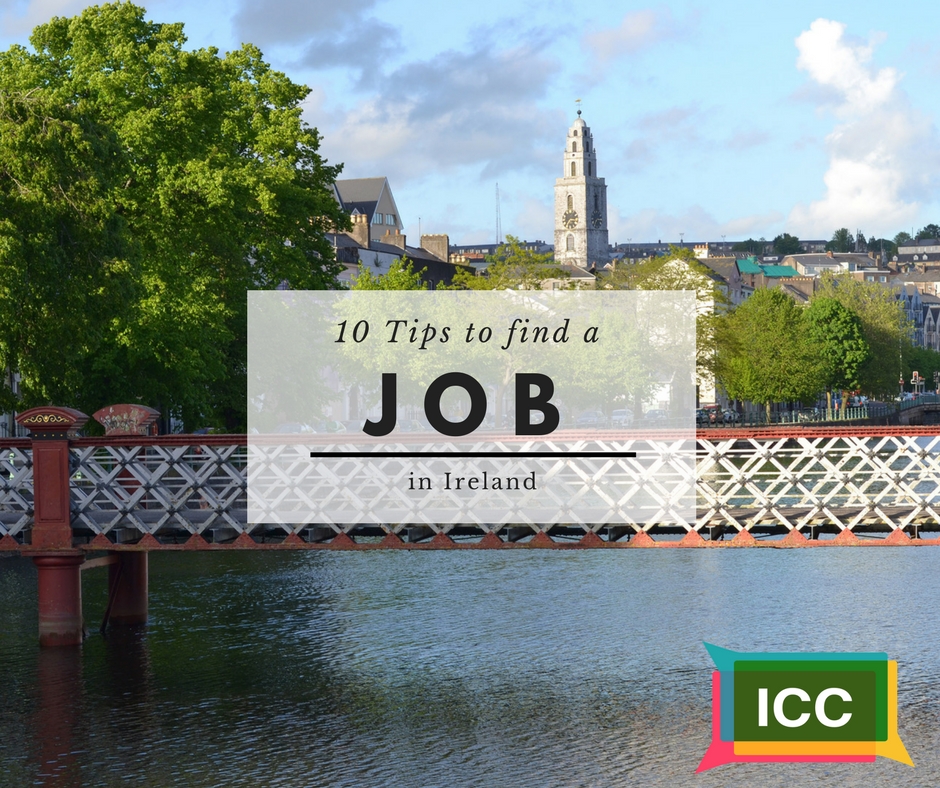 Because I'm aware of the fact that finding a job for the first time in a foreign country can be challenging, I'd like to share with you some tips that I found useful during that stage.
10 tips to find a job:
1. Practice the language, do any English  course or a course that you're interested in. In this way, you'll be getting new vocabulary and you'll be more fluent.
2. Meet people, go out to meetings, don't miss any opportunity to socialize. This can lead you to a job. Be curious and search for courses, events, etc. You might find useful the Job Expo which is usually celebrated every year. You can have more information here  www.jobsexpo.ie
3. Make a balance between what you'd like to do and the market offers. You can visit some job websites like www.jobs.ie  for positions or https://www.glassdoor.ie to check the companies' reviews. Additionally, it can be interesting to search for specialized recruiters in qualified areas or temporary jobs agencies.
Something that I found really useful as well, was doing research of the organizations in Cork. Investigate what their products/services are and see if you can apply directly through their website.
4. Once you have determined the areas you'd like to focus on, be ready to prepare your CV. The Irish CV might have a different format from your country's one so I'd recommend taking time to be sure you know how to build it. On the internet you can find lots of websites where they offer templates, e.g, https://www.collinsmcnicholas.ie/jobseekers/cvs/cv-templates/
5. After knowing how to structure your CV, think about your strengths, and what makes you unique : have in consideration that you're the best person to sell yourself, so reflect all your positive features in your CV as this will be the first impression the recruiter will have from you.
Moreover, read carefully the job description and the company's values for which you'll apply and get an idea of what they're looking for. Then, use keywords in your CV related to the role. The idea is to show them that you're the perfect match for the organization.
This step might include to additionally work on your cover letter as there are some positions that require it. The free website Canva might help you creating a great CV : https://www.canva.com/

6. Time to send your application. I'd suggest in this step you keep track of all the offers you've sent and go through it every now and then. In this way, you won't be surprised if a recruiter calls you. Being organized and prepared will help you be less nervous and more confident.

7. Get ready for the interview. Usually, at this point, I read again the job description, the company's values, and I analyze how can I sell myself knowing this information.
Once you are aware of this, try to practice some possible questions. Moreover, In order to answer them in an efficient way, you can check different methods. Usually, companies have different interview styles but one that is very common is the competence base. For this type of interview the STAR-Situation, Task, Activity, Result–  method is very useful.
Again on internet, there are tonnes of articles about this topic, so I encourage you to read few of them. Youtube can be a useful tool too.

8. Keep yourself positive! It might be possible that you won't be successful at every interview but each of them will help you develop your skills. Be aware that this may not be related to your performance as there are different factors involved. Allow yourself to have a break, learn from the experience and be persistent.

9. Congratulations, you got it! Now will be the time when you'll have to arrange your paperwork: get your PPS number and sort your bank account. In general, companies in Ireland are very helpful during this process, so don't be afraid to ask them how to proceed.

10. Remember if you want to continue growing professionally, it's important to renew yourself, stay always active, learning and improving your skills. You don't know when a new opportunity will arise.
I truly hope this information helps you get the position that you want and deserve. Please don't be shy and share with us any other tips that you might have in order to find a job!
Wishing you the best of luck,
Corina